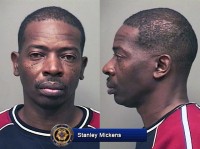 On April 22nd, 2012, around 3:00am, Officer Tom Johnson, 56 was working as part of a DUI saturation patrol when his patrol car was rear-ended by a drunk driver.
Officer Tom Johnson was in his 2009 Chevrolet Impala stopped for a red light in the left southbound lane of Fort Campbell Boulevard at Ringgold Road.
full article here > Clarksville Police Officer working a DUI Special Patrol Car is Rear Ended at a Red Light by a Drunk Driver » Clarksville, TN Online.